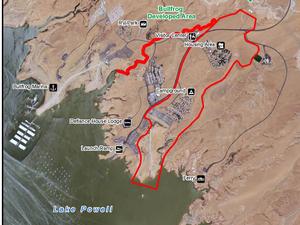 Bullfrog Drainage Improvement EA Scoping Notice
The National Park Service is seeing public input related to the proposed improvement of stormwater drainage in the Bullfrog Area of Glen Canyon National Recreation Area.
Public scoping comments will be accepted between August 29, 2013 and September 27, 2013.
Public comments will be used to help inform the development of an environmental assessment (EA) in compliance with the National Environmental Policy Act (NEPA) and the National Historic Preservation Act (NHPA). The EA will consider the potential effects to area soils, hydrology, wildlife, vegetation, visitor use, cultural resources, and park operations.
All comments, questions, and suggestions related to the project are welcome. During the public scoping period the following types of comments are particularly helpful:
1) Specific information about the project area that should be included in the analysis
2) Information about how you use this area of the park and how the project might affect that use
3) Other projects that might affect or be affected by the project
4) Other ideas or alternative ways of meeting the project objectives.
Comment Period:
Closed 08/29/2013 - 09/27/2013

Document Content:

Bullfrog EA Fact Sheet
(429.4 KB, PDF file)

Bullfrog EA area map
(306.0 KB, PDF file)
Disclaimer:
Links within the above document(s) were valid as of the date published.
Note:
Some of the files may be in PDF format and can be viewed using the Adobe Acrobat Reader software. You may download a free copy of
Acrobat Reader
from Adobe Systems.