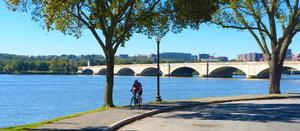 NCR Paved Trail Plan - final
The National Park Service releases its final Paved Trail Study, setting a vision that will guide future planning and coordination for trails in the NPS National Capital Region Paved trail network. The study identifies achievable goals, provides 121 capital and programmatic recommendations and prioritizes opportunities to expand multi-use trails in D.C. area national parks as funding becomes available.
Today, there are nearly 100 miles of paved trails in D.C. area national parks. The extensive trail network is helping to define the region as a pioneer in multi-modal transportation infrastructure. The plan established the concept of a National Capital Trail of four loops that offer between 18 and 45 miles of diverse trail experiences, linking national parks and other destinations. The concept is strengthened by local and regional trailheads at key trail intersections to provide amenities, wayfinding and an improved trail experience.
The paved trail network in the national capital region is one of the most complex in the nation. The study determined that no single park or agency can carry full responsibility for maintaining the entire regional network as it exists today, or for enhancing the network to meet the needs of tomorrow's users. Partnerships are an essential element for success and a cornerstone of the study's recommendations.
The NPS strives to lead the region in providing exceptional outdoor trail experiences, seamlessly linking richly diverse places of natural and historic significance in the national capital area while providing safe and enjoyable experiences for people to walk, run, bike, commute and have fun with friends and family. The project prioritization criteria will help the NPS align limited resources with trail projects that implement the vision and goals while maximizing regional benefits.
To develop the study, the NPS conducted a comprehensive examination of its regional trail network and other federal regulations and policies that guide trail planning. Stakeholder outreach and local government trail plans and priorities, including major trail gaps and areas for potential partnership and collaboration, also informed the study.

Document Content:

Final - NPS Paved Trails Study
(20.7 MB, PDF file)
Disclaimer:
Links within the above document(s) were valid as of the date published.
Note:
Some of the files may be in PDF format and can be viewed using the Adobe Acrobat Reader software. You may download a free copy of
Acrobat Reader
from Adobe Systems.