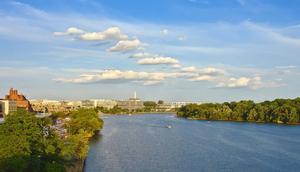 DC Clean Rivers Project - Potomac River Tunnel FONSI
The District of Columbia Water and Sewer Authority (DC Water) and in cooperation with the National Park Service (NPS) prepared an Environmental Assessment (EA) to evaluate the environmental impacts associated with the proposed Potomac River Tunnel, a major component of DC Water's Long-Term Control Plan (LTCP), also known as the DC Clean Rivers (DCCR) Project.
The project is needed to reduce combined sewer overflows (CSOs) that contribute to water quality impairment of the Potomac River and ultimately the Chesapeake Bay; and to comply with the 2005 Federal Consent Decree entered into by DC Water, the District of Columbia (the District), the Environmental Protection Agency (EPA), and the US Department of Justice, as amended January 2016 (Amended Consent Decree).
The study area for the Potomac River Tunnel project generally follows along the Potomac River from Georgetown to the north to Joint Base Anacostia-Bolling (JBAB) to the south. Much of the study area falls within Chesapeake and Ohio Canal National Historical Park (C&O Canal NHP), Rock Creek Park, and National Mall and Memorial Parks administrative units of the NPS, as well as the bed of the Potomac River, use of which the NPS authorizes through permits issued to protect the proprietary interests of the Federal Government.
The EA was prepared in accordance with the National Environmental Policy Act of 1969 (NEPA), the regulations of the Council on Environmental Quality (CEQ) for implementing NEPA (40 Code of Federal Regulations [CFR] 1500-1508), and NPS Director's Order (DO) 12, Conservation Planning, Environmental Impact Analysis, and Decision-making. The statements and conclusions reached in this finding of no significant impact (FONSI) are based on documentation and analysis provided in the EA and associated decision file.