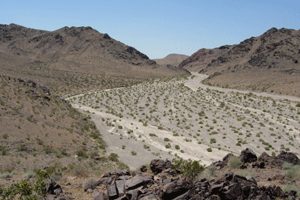 Mapbook of route refinements on the Old Spanish Trail in CAS
This is a mapbook of 39 1:100000 scale maps in a single pdf file that show all changes in the trail alignment with both the original and the refined routes clearly marked. Once downloaded, the maps may be printed in small or large format, or examined electronically. We hope that these maps will assist reviewers to understand where the route has been changed since the feasibility study in 2001. Please contact us if you have questions or comments.
Comment Period:
Closed 08/29/2016 - 10/17/2016

Document Content:

OLSP_100k_Quads_NHT_Alignment_Differences_20160829.pdf
(82.4 MB, PDF file)
Disclaimer:
Links within the above document(s) were valid as of the date published.
Note:
Some of the files may be in PDF format and can be viewed using the Adobe Acrobat Reader software.
You may download a free copy of Acrobat Reader from Adobe Systems.