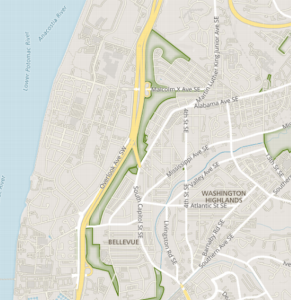 Shepherd Parkway Development Concept Plan (Final)
The National Park Service (NPS) has prepared a concept plan that seeks to enhance Shepherd Parkway as a natural, recreational, and historic resource in southeast and southwest Washington, DC. The approximately 205-acre park is a long, narrow portion of NPS land which is part of and administered by the National Capital Parks-East unit of the NPS. The concept plan overall describes the project background, current conditions, environmental constraints, potential improvements, and steps needed to move toward implementation.
Shepherd Parkway is a predominately wooded landscape extending approximately between the St. Elizabeths campus to the north and Bald Eagle Hill to the south. The park is bound by I-295 to the west and the Congress Heights and Bellevue neighborhoods to the east. Open space and views to the Potomac and Anacostia Rivers punctuate the park corridor. Shepherd Parkway also includes the highly-frequented area known as Parkland and the remains of Civil War-era Fort Carroll and Fort Greble.

Document Content:

D11_Final Concept Plan_508.pdf
(10.4 MB, PDF file)

D16_Newsletter.12.15.20.pdf
(6.3 MB, PDF file)
Disclaimer:
Links within the above document(s) were valid as of the date published.
Note:
Some of the files may be in PDF format and can be viewed using the Adobe Acrobat Reader software. You may download a free copy of
Acrobat Reader
from Adobe Systems.