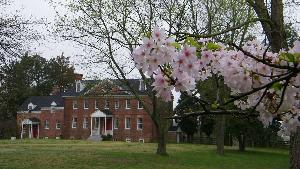 Harmony Hall Plan - Second Public Meeting and 30-day Comment period
The National Park Service (NPS) invites the public to help refine a long-term vision for Harmony Hall, a historic site in Prince George's County, Md. Harmony Hall is a 65-acre park that includes wetlands, forests, historic structures and archeological ruins along the Potomac River. We want to hear from you as we develop a plan for the future use and management of this unique park.
The NPS will review the revised concepts based on public feedback from the March and April 2021 public comment period. The concepts include increased educational opportunities, new trails, rehabilitated structures, partnership opportunities and more. This is the second stage for the creation of a Development Concept Plan that will be used to guide park management, implement park improvements, ensure the protection of the park and coordinate with the community and partners.  
All of these efforts will also assist the NPS in telling a more complete and inclusive history of the park. Harmony Hall has a complex history and many important stories to tell, from the Native Americans who lived in the area to the people who were enslaved on its tobacco plantation. Along with public comments, the social and physical history of the site will inform the recommendations for its future use and development.
Attend the public meeting:
The NPS will host a live, virtual public meeting on Sept. 14 from 6 to 7:30 p.m. Click the link below to join the public meeting:
https://teams.microsoft.com/dl/launcher/launcher.html?url=%2F_%23%2Fl%2Fmeetup-join%2F19%3Ameeting_Y2M4MTBhZTMtMjg5MS00ZDc1LTllYzctZjFkNWFlOTZhNzQ5%40thread.v2%2F0%3Fcontext%3D%257b%2522Tid%2522%253a%252216ed5ab4-2b59-4e40-806d-8a30bdc9cf26%2522%252c%2522Oid%2522%253a%252251be6f1b-2349-4ca2-97ee-f0452262bbef%2522%257d%26anon%3Dtrue&type=meetup-join&deeplinkId=0c2e5f05-0e7a-4b2a-a710-92dad063ec55&directDl=true&msLaunch=true&enableMobilePage=true&suppressPrompt=true
Audio for the meeting will be available via computer through the website link or by dialing (877) 286-5733 (Conference ID: 482 001 82#). A recording of the meeting and the meeting's presentation will be available for viewing at here after Sept. 14. Please let us know if you are planning to attend by registering here:
https://forms.office.com/g/6HERAJnUdz
. Registration is not required.
How to comment:
Public participation is vital to the planning process. There are several ways to get involved. You are invited to review the proposal and provide comments and ideas from Sept. 14 through Oct. 14, 2021. To provide comments online click the open to comment button on the left of this page.
If you prefer to mail your comments, make sure they are postmarked by Oct. 14, 2021 to receive consideration. Mail comments to the following address: 
Superintendent
Attn: Harmony Hall Concept Plan
1900 Anacostia Dr.SE
Washington, DC 20020
Comment Period:
Closed Sep 14, 2021 - Oct 14, 2021