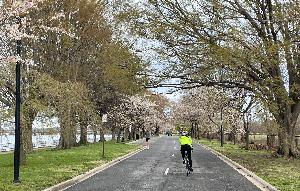 Public Comment Period Open until 5/19
The document includes conceptual designs for traffic safety improvements at Hains Point. Interested parties are encouraged to provide written comments in addition to, or in lieu of, providing comments at the public meeting. Comments may be submitted online on/before May 19, 2022. Comments may also be mailed to the address listed below.
NOTE: Before including your address, phone number, e-mail address, or other personal identifying information in your comment, you should be aware that your entire comment—including your personal identifying information—may be made publicly available at any time. While you can ask us in your comment to withhold your personal identifying information from public review, we cannot guarantee that we will be able to do so.
Comment Period:
Closed Apr 6, 2022 - May 19, 2022

Document Content: