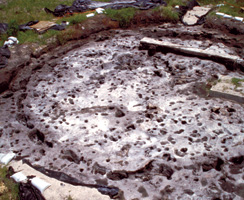 Miami Circle Special Resource Study - November 2007
The discovery of the Miami Circle archeological site on Brickell Point in downtown Miami, Florida, in 1998 created interest both within the archeological community and the general public. The circle is characterized primarily by a patterned group of large and small holes cut into the subsurface limestone bedrock. The holes collectively form a circle approximately 38 feet in diameter. The features comprising the circle are arranged in a readily discernible pattern alternating between relatively large oval and quasi-rectangular "basins" and smaller oval and round holes. The cut holes vary in size and shape and were filled with "black earth midden" material. Marks left by cutting tools can often be observed on the sides of the holes. Research suggests that the Miami Circle represents the "footprint" of a prehistoric structure, and further analysis of the site and associated cultural materials may help broaden our understanding of American Indian architecture and long-distance exchange networks.
Comment Period:
Closed 01/08/2008 - 02/22/2008

Document Content:

Special Resource Study - November 2007
(1.3 MB, PDF file)
Disclaimer:
Links within the above document(s) were valid as of the date published.
Note:
Some of the files may be in PDF format and can be viewed using the Adobe Acrobat Reader software. You may download a free copy of
Acrobat Reader
from Adobe Systems.