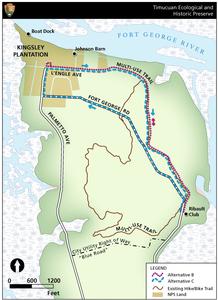 Kingsley Plantation - Ribault Club Interpretive Tram Tour
The National Park Service, Timucuan Ecological and Historic Preserve is proposing to improve the interpretive connectivity and visitor mobility between the Kingsley Plantation and the Ribault Club by providing an interpretive tram service. The proposed project would also include a new maintenance and storage facility for the trams and transportation stops at Kingsley Plantation and the Ribault Club. The proposed site for the maintenance and storage facility is located at the site of the "Johnson Barn" on Fort George Island and is adjacent to the Kingsley Plantation. The proposed tram would utilize existing infrastructure by operating along L'Engle Avenue and the Multi-use Trail, with the interpretive tram tour traveling in both directions along this route and requiring the vehicle to turn around at Kingsley Plantation and the Ribault Club. The route is 3.4 miles round trip. Visitors could board the tram at either site from the Kingsley Plantation parking lot and the Ribault Club driveway. The Multi-use Trail provides the best opportunity for historic and ecological interpretation and allows us to maximize visitor opportunity to learn about the history and ecology of Fort George Island.
An environmental analysis has been conducted to evaluate the environmental impacts of this proposed action and has been documented in an Environmental Assessment (EA). The proposed action described in the preceding paragraph has been selected as the preferred alternative.
Comment Period:
Closed 03/28/2013 - 04/30/2013

Document Content:

TIMU Tram Tour EA
(4.7 MB, PDF file)

TIMU Tram Tour EA Appendix
(1.5 MB, PDF file)
Disclaimer:
Links within the above document(s) were valid as of the date published.
Note:
Some of the files may be in PDF format and can be viewed using the Adobe Acrobat Reader software.
You may download a free copy of Acrobat Reader from Adobe Systems.