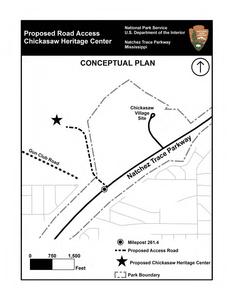 Construction of an Access Road to a Planned Chickasaw Cultural Heritage Center Environmental Assessment
The National Park Service (NPS), in cooperation with the Chickasaw Nation, the Chickasaw Inkana Foundation, and the City of Tupelo (City), is considering a project to construct an access road within the boundaries of the Natchez Trace Parkway (Parkway) to the planned Chickasaw Cultural Heritage Center (Center). The access road would be built and maintained by the City, and the NPS would provide the right to access the road (right-of-way).
Discussions between the NPS and the Chickasaw Nation (Nation) have been ongoing since 2002 with both parties agreeing upon the value of such a center constructed near the Chickasaw Village Site (Site) at milepost 262 in Tupelo, MS. In 2002, the NPS, Nation and the City intended to develop a museum and cultural center that would interpret the Chickasaw's rich cultural heritage as it relates to the old southwestern United States and the Old Natchez Trace. Such a center was envisioned to be mutually rewarding to the Nation, NPS, and the public. The current proposal continues with this early intent with the modification that the Center would be located on land adjacent to the NPS and include a new direct access from the Parkway. The Center would be constructed by Chickasaw Inkana Foundation (Foundation), which seeks to preserve Chickasaw Nation sites, artifacts, and other cultural reminders in the Chickasaw's historic homeland.
This document analyzes the impacts of the construction of a new direct access from the Parkway motor road to the boundary of NPS land. In addition to providing public access to the Center, the proposed improvements would ensure the safety of visitors and the preservation of the Parkway's natural and cultural resources.
Comment Period:
Closed Aug 17, 2016 - Sep 15, 2016

Document Content:

NATR Chickasaw Entrance Road EA_08152016.docx
(17.2 MB, .docx file)
Disclaimer:
Links within the above document(s) were valid as of the date published.
Note:
Some of the files may be in PDF format and can be viewed using the Adobe Acrobat Reader software. You may download a free copy of
Acrobat Reader
from Adobe Systems.