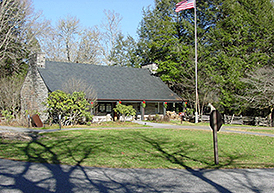 Environmental Assessment For The Oconaluftee Visitor Center
This Environmental Assessment (EA) addresses the proposal by the National Park Service (NPS) to improve visitor services and vehicular circulation at the existing Oconaluftee Visitor Center. The project site is located near Cherokee, North Carolina, along Newfound Gap Road. To accomplish this the NPS proposes to construct: a new visitor center building to tell the Park's natural and cultural history stories, a new restroom facility and an information kiosk.
The Oconaluftee Visitor Center area is designated in the Park's General Management Plan (GMP) as a general park development subzone. The GMP calls for a new visitor center to be constructed to serve the Park, the Blue Ridge Parkway, and the surrounding region. The location and arrangement of the facility is to be covered by a development concept plan.
Two alternatives are analyzed in this document. Alternative A is the No Action Alternative and Alternative B is the Build Alternative.

Document Content: