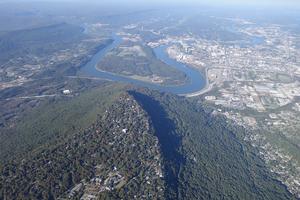 Mocassin Bend National Acheological District General Management Plan Amendment
The Moccasin Bend National Archeological District General Management Plan will amend 1988 General Management Plan for Chickamauga and Chattanooga National Military Park so that it will provide management guidance for Moccasin Bend unit of the National Military Park.
Comment Period:
05/01/2017 - 05/30/2017
Comment period closes in Days, Hours, Min.
Topic Questions:
1. Does the preferred alternative support the purpose and significance of the park?
2. Does the preferred alternative protect park resources and provide opportunities for quality visitor experiences?
3. Please share any additional comments you have on the general management plan amendment for Moccasin Bend National Archeological District.

Document Content:

CHCH Moccasin Bend_EA_ May 2017_lowres.pdf
(12.1 MB, PDF file)
Disclaimer:
Links within the above document(s) were valid as of the date published.
Note:
Some of the files may be in PDF format and can be viewed using the Adobe Acrobat Reader software.
You may download a free copy of Acrobat Reader from Adobe Systems.