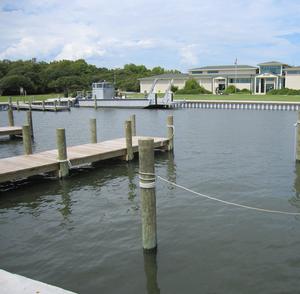 Harkers Island Ferry Departure Site Environmental Assessment
The National Park Service (NPS) is proposing facility improvements and amenities that would improve the NPS facilities at Harkers Island for use by a contracted ferry concessioner and ferry passengers.
The Harkers Island Passenger Ferry Departure Site Environmental Assessment (EA), issued February 25, 2013, evaluates two alternatives for addressing the purpose and need for action:
• Alternative A is a No-Action Alternative.
• Alternative B is the preferred alternative and proposes facility improvements and amenities at the Harkers Island visitor center area.
The purpose of the proposed action is to improve the gateway facilities at the Harkers Island Visitor Center to better serve as a departure site for passenger ferry service which is scheduled to begin operating in the spring of 2014. The project is needed to prepare the Harkers Island area to more fully meet the objectives of the National Park Service which include: park orientation, ferry service facilities (such as docks and ticketing), ferry service information, passenger shelters, and accessible facilities (such as: parking, vehicle/bus loading/unloading, restrooms, ferry docks), and improved vehicle and pedestrian connectivity to supporting facilities such as the Core Sound Waterfowl Museum and Heritage Center, the picnic area/parking, and the area nature trail system.
The EA will be on public review for 30 days, and the National Park Service encourages your review and comment by March 27, 2013. Comments can be submitted online at this web address or they may be mailed to:
Superintendent
Cape Lookout National Seashore
131 Charles Street
Harkers Island, North Carolina 28541
Should you have any questions, please contact Management Assistant Wouter Ketel,Cape Lookout National Seashore, 252-728-2250, extension 3005.
Comment Period:
Closed 02/25/2013 - 03/27/2013