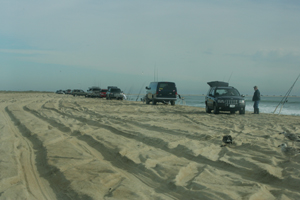 2012 03Mar 15 - Prenesting Closures Established for 2012 Shorebird Breeding Season
The final off-road vehicle (ORV) management plan (plan) and special regulation for Cape Hatteras National Seashore (Seashore) went into effect on February 15, 2012. In accordance with Table 10-1 of the plan, National Park Service (NPS) Resources Management staff has conducted an annual assessment of breeding habitat for piping plover (PIPL), Wilson's plover (WIPL), American oystercatcher (AMOY), and colonial waterbirds (CWBs), which occurred between January 30 and February 7, 2012. Prenesting areas for PIPL, AMOY and/or WIPL have been installed by March 15 and prenesting areas for CWB sites will be installed by April 15.
The 2012 breeding habitat assessment and prenesting maps are posted here.

Document Content: