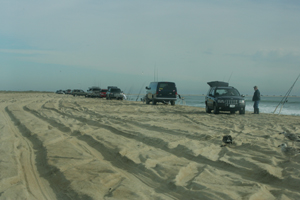 2010 03Mar 05 - Draft ORV Management Plan/EIS
The Draft ORV Management Plan/EIS (DEIS) evaluates the impacts of several alternatives for regulations and procedures that would carefully manage ORV use/access in the Seashore to protect and preserve natural and cultural resources and natural processes, to provide a variety of visitor use experiences while minimizing conflicts among various users, and to promote the safety of all visitors.
A limited number of hard copies of the DEIS will be available for distribution at the Seashore headquarters or a copy may be requested, as long as supplies last, from Mike Murray, Superintendent. Copies will be provided to local libraries in Manteo, Kill Devil Hills, Hatteras Village, and Ocracoke, North Carolina.
The NPS will accept comments on the DEIS for 60 days from the date of publication by the U.S. Environmental Protection Agency (EPA) of its Notice of Availability for the DEIS. The EPA published the Notice of Availability on March 12, 2010, which opened the 60-day public comment period. The NPS will accept comments on the DEIS until midnight (Mountain Daylight Time) May 11, 2010.
NPS encourages commenting electronically through PEPC. If you wish to submit your written comments in hard copy (e.g. in a letter), you may send them by U.S. Postal Service or hand-deliver them to: Superintendent, Cape Hatteras National Seashore, 1401 National Park Drive, Manteo, NC 27954. Oral statements and written comments will also be accepted during the hearing-style public meetings which will be scheduled during the public comment period. Comments will not be accepted by fax, email, or in any other way than those specified above. Bulk comments in any format (hard copy or electronic) submitted on behalf of others will not be accepted.
Dates, times, and locations of the hearing-style public meetings will be announced in press releases, e-mail announcements and on the PEPC website.
NOTE: Some documents are large (>5MB) and may require additional time to download.
Comment Period:
Closed Mar 12, 2010 - May 11, 2010

Document Content: