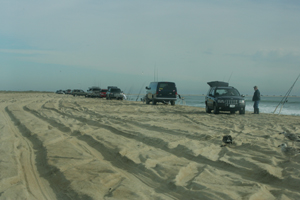 2007 07Jul 02 - Federal Register Notice Published for Cape Hatteras
Superintendent Mike Murray announced that a Notice of Intent (NOI) has been published in the Federal Register on June 28, 2007 announcing the Secretary of the Interior's intent to establish a Negotiated Rulemaking Advisory Committee to negotiate and develop special regulations (proposed rule) for management of off-road vehicles (ORV) at Cape Hatteras National Seashore (CAHA). The Notice of Intent can be found in the Federal Register at the following website:
http://a257.g.akamaitech.net/7/257/2422/01jan20071800/edocket.access.gpo.gov/2007/E7-12012.htm
Comment Period:
Closed 07/02/2007 - 07/30/2007

Document Content:

Press Release, Notice of Intent
(37.0 KB, Word file)

Notice of Intent (NOI)
(58.0 KB, PDF file)
Disclaimer:
Links within the above document(s) were valid as of the date published.
Note:
Some of the files may be in PDF format and can be viewed using the Adobe Acrobat Reader software. You may download a free copy of
Acrobat Reader
from Adobe Systems.