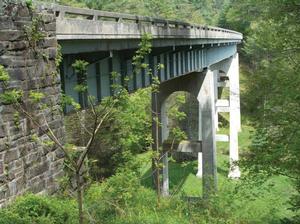 Draft Environmental Assessment
This is the draft environmental assessment for the project, including the NPS preferred alternative. The proposed preferred alternative:
• addresses current structural and safety deficiencies and proposes rehabilitation/replacement of the bridges in a manner that maintains the historic character to the extent possible,
• results in resource impacts that are primarily direct impacts from construction activities and would subside after construction is complete, and
• results in no adverse impacts to federally listed threatened or endangered species, designated critical habitat, species proposed for listing, or archeological resources.
Comment Period:
Closed 05/01/2019 - 06/01/2019

Document Content:

BLRI 2A16 and 2D17 Draft EA.PDF
(6.9 MB, PDF file)
Disclaimer:
Links within the above document(s) were valid as of the date published.
Note:
Some of the files may be in PDF format and can be viewed using the Adobe Acrobat Reader software. You may download a free copy of
Acrobat Reader
from Adobe Systems.