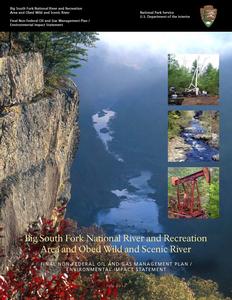 Draft Non-Federal Oil and Gas Management Plan / Environmental Impact Statement
The Draft EIS analyzes alternative strategies for effectively regulating and managing non-federal (privately owned) oil and gas operations in Big South Fork NRRA and Obed WSR. The Draft EIS evaluates the effects of three alternatives for their potential impacts on the human environment and park resources and values.
The NPS "preferred alternative" involves:
--Proactive sharing of information and clear communication with owners and operators regarding current legal and policy requirements;
--Continued cooperation with the states of TN and KY to proactively enforce regulations and plans of operations;
--Increased inspections and monitoring;
--A new management framework for compliance activities associated with plugging and reclamation of wells; and
--Designation of special management areas and associated operating stipulations to protect those areas where park resources and values are particularly susceptible to adverse impacts from oil and gas operations.
The comment period is now open and will run until August 16, 2011. You may provide comments through this website, or one of the following methods:
--At the public meetings (more information available in the newsletter found on this website);
--Mail comments to:
Superintendent
Big South Fork NRRA
4564 Leatherwood Road
Oneida, TN 37841
For additional information, please feel free to contact Tom Blount, Big South Fork NRRA and Obed WSR Chief of Resources, at 423-569-9778.
Comment Period:
Closed 06/15/2011 - 08/16/2011

Document Content: