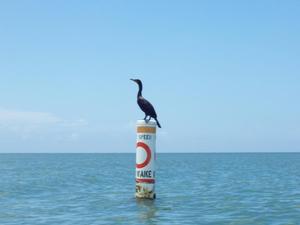 Mooring Buoy and Marker Draft EA
The purpose of this plan is to increase marine resource protection, enhance visitor appreciation of submerged natural and cultural resources, and better prtect health and human safety, through buoys, aids to navigation, and informational signs. We are inviting the public and local, State, and Federal agencies to comment on this plan on or before September 3, 2010. If you wish to comment on the Mooring Buoy and Marker Plan, you may submit your comments by any one of several methods. You may mail comments to the name and address below. You may also comment via the Internet at
http://parkplanning.nps.gov
. If you do not receive a confirmation from the system that we have received your Internet message, contact Biscayne at 305-230-1144. You may submit verbal and written comments at one of our public meetings (see public meetings notice). Finally, you may hand-deliver comments to Biscayne National Park. Our practice is to make comments, including names and home addresses of respondents, available for public review during regular business hours. Individual respondents may request that we withhold their home address from the record, which we will honor to the extent allowable by law. There also may be circumstances in which we would withhold from the record a respondent's identity, as allowable by law. If you wish us to withhold your name and/or address, you must state this prominently at the beginning of your comment. We will make all submissions from organizations or businesses, and from individuals identifying themselves as representatives or officials of organizations or businesses, available for public inspection in their entirety.
Comment Period:
Closed 07/21/2010 - 09/03/2010

Document Content:

Mooring Buoy and Marker Draft EA
(10.4 MB, PDF file)
Disclaimer:
Links within the above document(s) were valid as of the date published.
Note:
Some of the files may be in PDF format and can be viewed using the Adobe Acrobat Reader software.
You may download a free copy of Acrobat Reader from Adobe Systems.