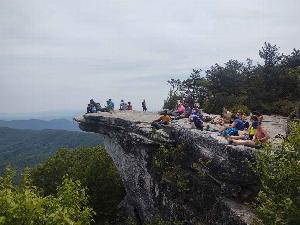 2023 Draft Visitor Use Management Plan and other materials
The public comment period was open in August 2023. The NPS is now finalizing the plan based on public comment.
Comment Period:
Closed Aug 1, 2023 - Aug 31, 2023
Topic Questions:
1. Please share your thoughts about the need to manage visitor use impacts in the Virginia Triple Crown segment of the A.T.
2. Are there management strategies in the draft plan that you support or would like to see prioritized? If so, why?
3. Are there management strategies in the draft plan you do not support? Tell us why.
4. Do you have any other questions or concerns about the project?

Document Content:

Draft visitor use management plan for public review
(17.9 MB, PDF file)

Public meeting posters
(10.1 MB, PDF file)
Disclaimer:
Links within the above document(s) were valid as of the date published.
Note:
Some of the files may be in PDF format and can be viewed using the Adobe Acrobat Reader software. You may download a free copy of
Acrobat Reader
from Adobe Systems.