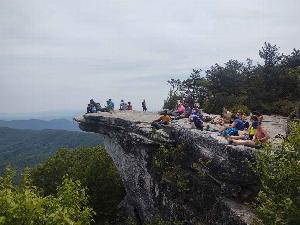 Spring 2022 Civic Engagement Materials
Please review either the storymap (link below) or handout and map. Following your review, share your thoughts by responding to the topic questions.
Comment Period:
Closed 03/01/2022 - 03/31/2022
Topic Questions:
1. How do you visit and experience Virginia's Triple Crown section of the AT? Are you a trail runner, day hiker, backpacker, or do you not visit the A.T. at all?
2. What are your favorite things about visiting this part of the A.T.?
3. If you don't visit the trail (or don't visit as often as you'd like), why not?
4. Do you have ideas for balancing visitor experiences while conserving resources for us to consider? For example, ideas could be related to: camping, group camping, trails, parking, reservations, shuttles, accessibility, other A.T. resources, other regional recreation, etc.
5. If you would like to be added to the project contact list for periodic updates, please include your name and email address below.

Document Content: