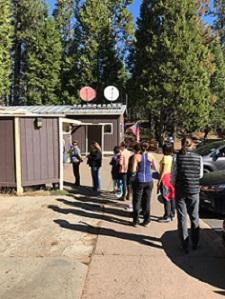 Replace the Big Oak Flat Welcome Center Complex Environmental Assessment
The environmental assessment presents a preferred alternative that proposes to construct a new welcome center to unify visitor services, a new adequately sized comfort station, and a plaza to house informational/orientation panels to replace the existing welcome center complex facilities. It also propose reconfiguring the existing parking lot to decrease vehicle-pedestrian conflicts and reduce congestion and an unpaved staff parking area along Tuolumne Grove Road to reduce congestion. It would install a sewer to connect the welcome center complex to the Hodgdon community septic system and decommission the aging septic system currently serving the facilities. In addition, the action alternative would provide the option for the addition of a water tank and access road at a later date.
Comment Period:
Closed Nov 21, 2018 - Dec 20, 2018

Document Content:

YOSE BOF Public Review EA_FINAL_508.pdf
(4.1 MB, PDF file)
Disclaimer:
Links within the above document(s) were valid as of the date published.
Note:
Some of the files may be in PDF format and can be viewed using the Adobe Acrobat Reader software. You may download a free copy of
Acrobat Reader
from Adobe Systems.