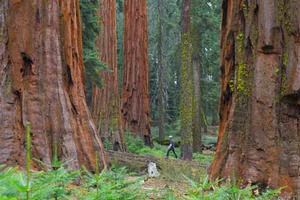 Restoration of the Mariposa Grove of Giant Sequoias Final Environmental Impact Statement
The Mariposa Grove of Giant Sequoias contains about 500 mature giant sequoia trees that are among the oldest, rarest, and largest living organisms in the world. Congress passed landmark legislation preserving the Mariposa Grove in 1864. Nearly 150 years later, comprehensive action is needed to ensure that the Grove continues to thrive and provide inspiration and enjoyment for future generations. This final environmental impact statement (FEIS) brings forth a plan to restore ecological processes and increase the resiliency of the Grove while improving the overall experience for visitors. The plan describes and analyzes three action alternatives and a no action alternative:
Alternative 1, No Action
Alternative 2, South Entrance Hub (preferred)
Alternative 3, Grizzly Giant Hub
Alternative 4, South Entrance Hub with Modified Commercial Tram Service
The National Park Service identified Alternative 2 as the Preferred Alternative as it would implement substantial restoration of giant sequoia habitat and wetlands, reduce developed areas within sequoia habitat and require the least new development outside of sequoia habitat, and better protect Pacific fishers from road fatalities in the area. Public scoping and consultation began in 2011. The park received 334 comments during the 60-day public review of the draft plan released in February of 2013. Key revisions to the preferred alternative between the draft and final EIS include refinements at South Entrance to ensure adequate parking, provision of additional parking near the existing picnic area for periods when the shuttle is not in operation, and exploration of additional options for the location(s) of leach fields.
A minimum 30-day no-action period will follow the U.S. Environmental Protection Agency notice of availability of the FEIS in the Federal Register. The National Park Service will then prepare a Record of Decision to be announced in the Federal Register as well as other sources.

Document Content: