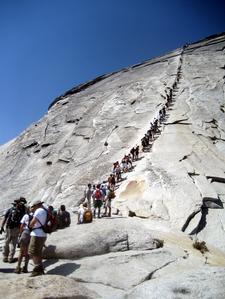 Half Dome Trail Stewardship Plan - EA
The National Park Service released the Half Dome Trail Stewardship Plan Environmental Assessment (EA) for public review in January 2012. The Half Dome Trail is the route to the summit of Half Dome, one of the most popular and well known hikes in Yosemite National Park. The plan will:
1. Protect the wilderness character of the project area
2. Improve the visitor experience on the Half Dome Trail by reducing crowding
3. Protect the area's natural and cultural resources
4. Improve the ability of its visitors to manage their own risk
This EA fulfills the requirements under 102(2) (C) of the National Environmental Policy Act and section 106 of the National Historic Preservation Act.
Initial public scoping began on May 26, 2010 and ended July 9, 2010. All comments generated during scoping were considered as a range of alternatives was developed.
A No Action Alternative (no restrictions) and four action alternatives are evaluated in this EA. The alternatives are:
Alternative A - No restrictions
Alternative B - 400 people per day
Alternative C - 300 people per day
Alternative D - 140 people per day
Alternative E - Remove the cables
Alternative C (300 people per day) was identified as the Preferred Alternative as it provides the optimum visitor experience while protecting wilderness character along the Trail. This EA presents an analysis of the potential environmental impacts of each alternative. Public, tribal, and agency consultation continues to play an important role in developing this plan.
Comment Period:
Closed Jan 24, 2012 - Mar 15, 2012
Topic Questions Instructions:
Useful comments can address the following suggested topics. You are by no means limited to these discussion topics.
Topic Questions:
1. Identify incomplete or incorrect information
2. Offer reasons why a particular alternative or plan element would or would not work
3. Offer a reasonable, new plan element or completely new alternative that could help accomplish the stated goals
4. Point out discrepancies between legal mandates and proposals
5. Highlight deficiencies in the analysis of environmental consequences

6. Provide information on how you use the park and how particular proposals in the planning document would affect that use

Document Content:

Half Dome Trail Stewardship Plan EA
(1.6 MB, PDF file)
Disclaimer:
Links within the above document(s) were valid as of the date published.
Note:
Some of the files may be in PDF format and can be viewed using the Adobe Acrobat Reader software. You may download a free copy of
Acrobat Reader
from Adobe Systems.