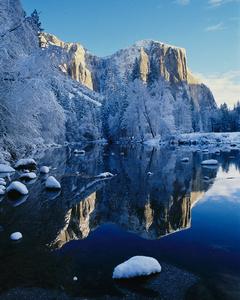 MRP River Values Draft Baseline Conditions Report
The Merced River and South Fork Merced River in Yosemite National Park are congressionally designated wild and scenic rivers, pursuant to the Wild and Scenic Rivers Act of 1968. In addition to being free flowing and having high water quality, these rivers possess 24 Outstandingly Remarkable Values (ORVs), which are those values that merited the rivers' designation as wild and scenic. Successful protection and enhancement of these values depend on an accurate understanding of their condition. This report provides that understanding by summarizing the pertinent information for the river value baseline conditions in 1987 (the year of wild and scenic designation) and 2010. Using this information, the NPS will prepare a management plan including a variety of alternatives for addressing the issues identified in this report, thereby protecting and enhancing the river values for the future.
This document represents the culmination of hundreds of hours of research and writing, describing the baseline conditions of the ORVs for which the Merced and South Fork Merced Rivers in Yosemite National Park were designated as Wild and Scenic. Yosemite National Park and its partners are currently completing several studies that more completely assess the condition of these values. Once those studies are complete, this report will be revised to reflect the best possible assessment of river value conditions.
The preferred method for receiving your comments is electronically through the Planning, Environment, and Public Comment website ((
http://parkplanning.nps.gov)
. To submit a comment, click the "Open for Public Comment" link on the left hand side of the project home screen and choose the document you wish to comment on (Draft Baseline Condition Assessment Report).
For further information regarding this plan please visit our website at
http://www.nps.gov/yose/parkmgmt/mrp.htm
.
Comment Period:
Closed 04/08/2011 - 04/30/2011
Topic Questions Instructions:
The report, including the associated maps, is draft. We welcome your comments on this report. Please pay special attention to the topic questions to help develop this crucial step in the river planning process.
Topic Questions:
1. Do you have suggestions for ways in which this information could be organized and presented for greater clarity and understanding?

2. Is the material presented clear, concise, and adequate to support the conclusions reached?
3. Have we missed sources of information that should be considered in evaluating the condition of the Merced River ORVs?

Document Content:

MRP River Values Draft Baseline Conditions Report
(14.5 MB, PDF file)
Disclaimer:
Links within the above document(s) were valid as of the date published.
Note:
Some of the files may be in PDF format and can be viewed using the Adobe Acrobat Reader software. You may download a free copy of
Acrobat Reader
from Adobe Systems.