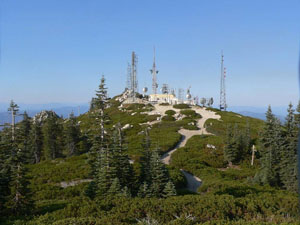 Shasta Bally Summit Site Plan - Newsletter #2 March 2009
At present, there are five alternatives being considered in the planning process for the future management of the telecommunications site located on the summit of Shasta Bally. Because of the complex nature of the issues regarding the summit, the park also developed the principles listed on page two to guide analysis of the alternatives. Where appropriate, these principles will be incorporated into the purpose and need for the Environmental Assessment (EA).
Comments received from current site users and the public on the preliminary range of alternatives are summarized in the March Newsletter. At this stage in the process, the NPS has refined the alternatives. Alternative E remains dismissed, and Alternative F is preliminarily identified as the preferred alternative.
Comment Period:
Closed 03/10/2009 - 04/30/2009
Topic Questions Instructions:
We welcome comments on these refined alternatives and the actions and mitigation measures common to all alternatives. We expect the draft plan and EA to be available later this spring.
Topic Questions:
1. Please be as specific as possible with your comments. If you are commenting on one of the alternatives, mention the alternative name or letter to which you are referring.

Document Content:

Newsletter #2 - March 2009
(676.1 KB, PDF file)
Disclaimer:
Links within the above document(s) were valid as of the date published.
Note:
Some of the files may be in PDF format and can be viewed using the Adobe Acrobat Reader software.
You may download a free copy of Acrobat Reader from Adobe Systems.