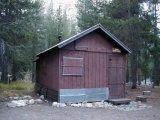 Decision Documents for the Wilderness Ranger Station EA
On May 25, 2010, acting National Park Service (NPS) Regional Director George J. Turnbull signed the Finding of No Significant Impact Statement (FONSI) for the replacement of three wilderness ranger stations within Sequoia and Kings Canyon National Parks. This FONSI, along with the EA and wilderness minimum requirement analysis, constitute the record of the environmental impact analysis and conservation planning for this project. The NPS will implement alternative 3, as described in the EA, which is the replacement of the existing ranger stations with new structures.
We plan to initiate phase one of this project later this year. The Rae Lakes Ranger Station is our top priority for replacement. If you need further information on this or other projects within Sequoia and Kings Canyon National Parks, please contact Environmental Protection Specialist Nancy Hendricks at 559-565-3102.

Document Content:

Signed FONSI
(1.4 MB, PDF file)

Signed Wilderness Minimum Requirement/Minimum Tool Analysis
(703.6 KB, PDF file)
Disclaimer:
Links within the above document(s) were valid as of the date published.
Note:
Some of the files may be in PDF format and can be viewed using the Adobe Acrobat Reader software.
You may download a free copy of Acrobat Reader from Adobe Systems.