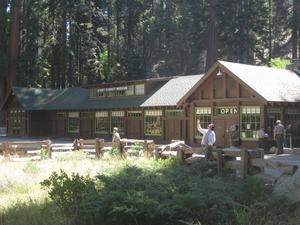 Rehabilitation of Water Distribution System EA
This environmental assessment / assessment of effect (EA/AoE) analyzes long-term options for addressing deficiencies in the existing water distribution system that serves the Giant Forest, Wolverton, Lodgepole, Wuksachi, and the Red Fir maintenance areas within Sequoia National Park. Sections of the existing water distribution system range from 30 to 70 years old. The system is in poor and deteriorating condition, fails on a regular basis, and does not comply with current state drinking water regulations. The EA/AoE evaluates alternatives to address the deteriorating and non-compliant water distribution system, and analyzes the potential effects of the alternatives.
The purpose of this project is to develop a comprehensive plan that considers the overall water system and prioritizes work elements based on the most critical needs, while providing for public health and safety, improving resource efficiency, and protecting park resources and values, in accordance with legal requirements and NPS policies.
Comment Period:
Closed 04/22/2011 - 05/25/2011

Document Content:

Rehabilitate Water Distribution System EA
(3.5 MB, PDF file)
Disclaimer:
Links within the above document(s) were valid as of the date published.
Note:
Some of the files may be in PDF format and can be viewed using the Adobe Acrobat Reader software. You may download a free copy of
Acrobat Reader
from Adobe Systems.