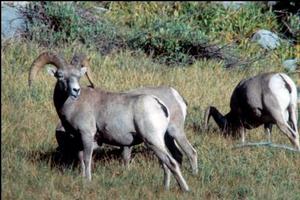 Sierra Nevada Bighorn Sheep Environmental Assessment: Research and Recovery Actions
This environmental assessment (EA) has been prepared to evaluate four alternatives, including no action, and the associated environmental impacts from implementing a proposal to conduct population monitoring, research, and translocations of federally endangered Sierra Nevada bighorn sheep (Ovis Canadensis sierra) within Sequoia and Kings Canyon National Parks. Project activities are being proposed primarily to facilitate meeting the goals of the Recovery Plan for Sierra Nevada Bighorn Sheep (Recovery Plan), and to inform the development of a new Wilderness Stewardship Plan and Environmental Impact Statement (WSP/EIS) for Sequoia and Kings Canyon National Parks.
The proposal includes projects that would directly aid in planning and implementing actions identified as necessary to enable the recovery of this endangered species. Proposed project activities, including helicopter-supported capture of bighorn sheep with net guns, would be conducted primarily in wilderness areas of Sequoia and Kings Canyon National Parks and on adjoining Inyo NF lands.
Comment Period:
Closed 06/14/2011 - 07/21/2011

Document Content:

Sierra Nevada Bighorn Sheep EA: Research and Recovery Actions
(3.1 MB, PDF file)

Determining the Relationship between Packstock and Sierra Nevada Bighorn Sheep in SEKI
(268.6 KB, PDF file)
Disclaimer:
Links within the above document(s) were valid as of the date published.
Note:
Some of the files may be in PDF format and can be viewed using the Adobe Acrobat Reader software.
You may download a free copy of Acrobat Reader from Adobe Systems.