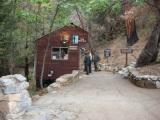 Crystal Cave Area Redevelopment and Rehabilitation Plan / Environmental Assessment
The National Park Service (NPS) is currently reviewing the public comments on the plan / environmental assessment (EA) for the redevelopment and rehabilitation of the Crystal Cave area within Sequoia National Park. The EA was open for a 30-day public review and comment from November 4 to December 4, 2015.
The objectives of the EA are to:
• Provide a long-term vision for the Crystal Cave area.
• Protect the natural and cultural resources in the Crystal Cave area.
• Comply with laws, regulations, mandates, and other guidance.
• Provide for a better 'sense of arrival' as visitors approach the Crystal Cave area at the trailhead area.
• Improve tour operations and the visitor experience by providing an adequate visitor services kiosk.
• Improve the visitor experience on the trail accessing the cave.
• Improve visitor flow a the cave entrance area.
The EA includes a no action alternative and two action alternatives that address the objectives of the plan.
Comment Period:
Closed Nov 4, 2015 - Dec 4, 2015

Document Content: