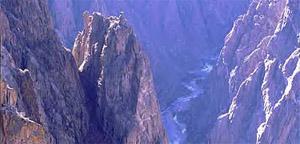 Draft Alternatives - Wilderness and Backcountry Management Plan
The National Park Service (NPS) invites you to review and comment on three alternatives that will be evaluated during the development of a Wilderness and Backcountry Management Plan (Plan) and Environmental Assessment (EA) for Black Canyon of the Gunnison National Park (Black Canyon NP) and Curecanti National Recreation Area (Curecanti NRA). The NPS released a Plan and EA for public review in September of 2011. The completion of that Plan was temporarily suspended while the NPS deliberated its response to public comments received during the review period. It is with great pleasure that we now release a modified set of alternatives that take those public comments into consideration.
Black Canyon NP and Curecanti NRA include high-quality wilderness and backcountry resources and experiences with increasing demand for some activities. Potential expanded recreational opportunities require planning with the user public to ensure the future availability of these high-quality experiences and resources.
Comment Period:
Closed 02/08/2016 - 03/21/2016

Document Content:

Alternative Scoping Detail.pdf
(540.0 KB, PDF file)
Disclaimer:
Links within the above document(s) were valid as of the date published.
Note:
Some of the files may be in PDF format and can be viewed using the Adobe Acrobat Reader software. You may download a free copy of
Acrobat Reader
from Adobe Systems.