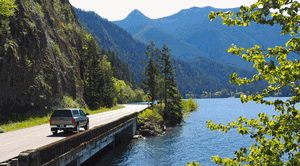 U.S. Highway 101 Rehabilitation at Lake Crescent - Preliminary Alternative Concepts
Olympic National Park, along with the Federal Highway Administration as a cooperating agency, is seeking public input on the proposed rehabilitation of U.S. Highway 101 within the park's Lake Crescent area. Highway 101 is a primary artery for travel between the eastern and western sides of the Olympic Peninsula and provides access to one of the most popular areas in Olympic National Park.
The proposed rehabilitation project will include resurfacing the 12.3-mile section of road, replacing over 44,000 linear feet of guardrail and replacing drainage and stabilization features. Rehabilitation work is slated to begin in 2017, but the schedule is still subject to change. Condition assessments of the road have already been underway and will contribute important information to the rehabilitation project.
An Environmental Assessment is being prepared to analyze effects of rehabilitating the road. Several preliminary alternative concepts are being considered and include a variety of proposed construction schedules and other traffic impact mitigation measures. The EA is slated for release and public review this fall.
We are asking for your assistance. Please take a moment to read this letter, which provides a summary of the alternatives, and make sure to check back here for further information as the plan develops.
You have a variety of options for providing us with your comments. You may submit your comment online here, mail your comment to the address provided, or attend one of two public meetings this month. We will be accepting comments through June 6, 2015.
Following this review, we will refine the alternatives, select or develop a preferred alternative, and complete the required environmental analysis, at which time additional opportunities will be provided for public involvement on the draft EA.
We understand that your time is valuable and we appreciate your assistance. We look forward to hearing your thoughts and suggestions on these preliminary alternative concepts.
Comment Period:
Closed 05/07/2015 - 07/07/2015
Topic Questions Instructions:
Please be specific and provide as much detail as necessary in your response.
Topic Questions:
1. Which alternative would best accommodate your use of U.S. Highway 101 at Lake Crescent?
2. What would you change about the alternatives?
3. Do you think there should be other alternatives evaluated for the project? If so, what would you suggest?

Document Content: