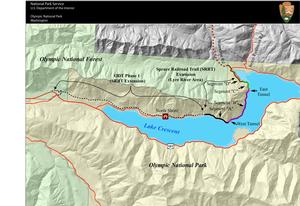 2012 Spruce Railroad Trail EA - open for public comment through June 8, 2012
The Spruce Railroad Trail is a popular year-round destination on the north shore of Lake Crescent. The National Park Service proposes to improve the Spruce Railroad Trail and released the 2012 Spruce Railroad Trail Environmental Assessment (SRRT EA) on May 9. The SRRT EA is available for public review through Friday, June 8, 2012.
The 2012 SRRT EA supersedes an EA released last year and includes new alternatives, including a new preferred alternative, and environmental analysis. The new SRRT EA illustrates the value of public input and addresses Important issues were raised during last year's public comment period, particularly around accessibility, safety, and visitor experience.
A new preferred alternative was developed and is fully described in the SRRT EA, along with three other action alternatives and a no-action alternative.
The NPS preferred alternative calls for the existing Spruce Railroad Trail to be improved and made accessible along its entire 3.5-mile length. The new preferred alternative would establish an accessible, multipurpose trail in one of the park's most popular destinations, while still protecting the unique and nationally significant historic and natural values of Lake Crescent and the Spruce Railroad. The trail would be built to provide a 10.5 foot wide, firm and stable surface to be shared by pedestrians, equestrians, bicyclists and people traveling in wheelchairs. Both of the historic railroad tunnels along the trail would be reopened as part of the trail; existing bypass trails would be managed for foot and horse travel only.
Comment Period:
Closed 05/09/2012 - 06/08/2012
Topic Questions Instructions:
Public review and comment is strongly encouraged. The specific topic questions provided below are examples of comments that are particularly helpful in reviewing the proposed trail development, and ensuring that the associated effects are accurately identified. Comments are most helpful when they discuss a specific plan element or alternative. All comments are welcome and will be considered prior to a final decision being made.
Topic Questions:
1. Are any actions described in the Alternatives unclear?
2. Is the information complete and accurate? Do you have additional information that should be considered?
3. Are there any particular reasons why a particular alternative or action would or would not work?
4. Is there an alternative or action that we did not consider that would better meet the Purpose and Need for taking action while resulting in fewer adverse impacts?
5. Are the actions considered in this environmental analysis consistent with applicable legal mandates?
6. Is the analysis of environmental impacts accurate and complete?


7. How would the particular proposal discussed in the EA affect you and your use of the park?

Document Content: