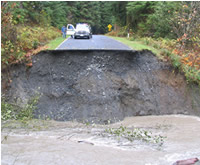 Environmental Assessment for the Upper Hoh Road, West Twin Creek Bridge
The Environmental Assessment (EA) for West Twin Creek Bridge, Upper Hoh Road is now available for your review and comment. The environmental assessment analyzes two alternatives: No Action - Continued Use of the Temporary Bridge, and the Preferred Alternative - Construct New West Twin Creek Bridge. The preferred alternative consists of three independent elements: 1) constructing a new bridge across West Twin Creek, 2) removing the temporary bridge, and 3) removing the washed-out culverts from the streambed.
The preferred alternative includes a bridge design that allows for natural streamflow passage to occur, as well as passage of the 100-year flood. The proposed bridge would be economical and would allow for conventional construction methods to be used while minimizing impacts to the environment.
Please make sure your comments are postmarked or delivered to the park by June 13.
The EA may be reviewed online at the National Park Service Planning Environment and Public Comment (PEPC) website at:
http://parkplanning.nps.gov
, or you may request a copy by calling the Superintendent's Office at 360-565-3004. You may provide comments on this website, or to the following address/fax/email:
Superintendent – West Twin Creek Bridge EA
Olympic National Park
600 East Park Avenue
Port Angeles, WA 98362
Fax: 360-565-3015
Website:
http://parkplanning.nps.gov
Email: olym_ea@nps.gov
Comment Period:
Closed 05/30/2007 - 06/13/2007