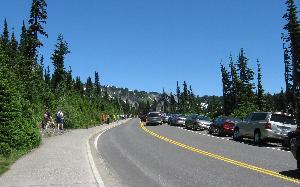 Mount Rainier NP Nisqually to Paradise Civic Engagement: Summer 2021 Comment Report
The public was invited to provide input on draft strategies and potential actions to address key issues for the road corridor between Nisqually Entrance (Ashford) and Paradise from July 16, 2021 through September 14, 2021. We received 706 correspondences through PEPC, email, and by mail. Comments were received from 25 states and many counties throughout the United States.
Over the winter and spring, the planning team reviewed and analyzed all public correspondences and wrote a report summarizing the public comments received. The public comment report summarizing summer 2021 public comments is now publicly available. The report can be found on the named 'Document List' on the left column on the main PEPC project site. This report provides a summary of engagement strategies used in this public engagement effort, geographic scope of who contributed public comments, and a review of responses to the questions posed to the public. The review of responses to the questions is broken into main themes to guide the reader.

Document Content:

MORA N-P Planning_Summer2021 Comment Summary.pdf
(523.5 KB, PDF file)
Disclaimer:
Links within the above document(s) were valid as of the date published.
Note:
Some of the files may be in PDF format and can be viewed using the Adobe Acrobat Reader software. You may download a free copy of
Acrobat Reader
from Adobe Systems.