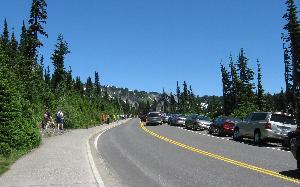 Mount Rainier NP Nisqually to Paradise Civic Engagement: Spring 2021 Update
Thank you all very much for providing thoughtful comments to the National Park Service regarding the future of the Nisqually to Paradise Road Corridor . This newsletter provides an update to the public on this planning effort and our upcoming next steps.
The public was invited to provide input on issues and opportunities for future visitor for the road corridor between Nisqually Entrance (Ashford) and Paradise from August 10, 2020 through October 5, 2020. We received 1,125 correspondences through PEPC, email, and by mail. Comments were received from 24 states and over 350 counties throughout the United States.
From October to November, the planning team reviewed and analyzed all public correspondences and wrote a report summarizing the public comments received. The public comment report summarizing summer 2020 public comments is now publicly available. The report can be found on the named 'Document List' on the left column on the main PEPC project site. This report provides a summary of engagement strategies used in this public engagement effort, geographic scope of who contributed public comments, and a review of responses to the five topic questions posed to the public. The review of responses to the five topic questions is broken into main themes to guide the reader.
The planning team is in the process of integrating these public comments and suggestions into a working draft of the Nisqually to Paradise Road Corridor Management Plan. Looking ahead, the public will be invited to review the draft strategies for the Plan in summer of 2021. Please check back here on this PEPC site in summer of 2021 for project updates. If you would like to be notified when the next round of public review initiates, please submit your email address on the form link below to join a project update email list.

Document Content: