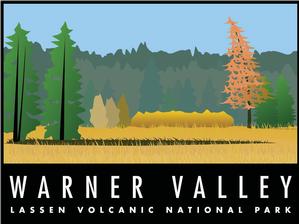 Warner Valley Comprehensive Site Plan Final Environmental Impact Statement
Lassen Volcanic National Park announced the release of the Final Environmental Impact Statement for the Warner Valley Comprehensive Site Plan (FEIS) this week. Superintendent Darlene M. Koontz stated "I am pleased to announce the release of this document, which is the result of many years of collaboration between park staff, researchers, and the public." Koontz added "I greatly appreciate the input we received during the development of the plan from individuals and groups who have a deep commitment to this beautiful and historically significant area."
The Park developed the Warner Valley Comprehensive Site Plan in response to the numerous management needs identified within the Warner Valley area, including the restoration of the valley's unusual fen and wetland complex, and protection and maintenance of archaeological and cultural sites, such as the historic Drakesbad Guest Ranch. "The plan also focuses on improving hiking paths and trails, and expanding interpretive offerings," noted Koontz "as well as addressing potential safety issues that may arise from inadequate parking pullouts and foot traffic along the Warner Valley road."
The Environmental Protection Agency's announcement was published in the Federal Register on September 24, 2010, which also marks the beginning of a minimum 30 day waiting period. After the end of the waiting period, a Record of Decision will be prepared by the Park and forwarded to the Regional Director, National Park Service Pacific West Region, as the official responsible for the approval of the Comprehensive Site Plan. After approval, the Superintendent of Lassen Volcanic National Park would be the official responsible for plan implementation.