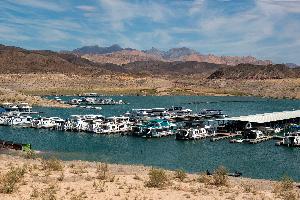 Lake Mead NRA - Sustainable Low Water Access Plan/EA - Newsletter
This document is a newsletter that shares information about the Lake Mead National Recreation Area Sustainable Low Water Access Plan / Environmental Assessment with the public. Information in this newsletter includes, but is not limited to, the purpose of the plan, related past planning efforts, desired conditions for the project area, issues and concerns, management concepts with associated strategies and actions, and information on public comments and meetings.
**Lake Mead National Recreation Area (NRA) is extending the public comment period for the park's sustainable low water access plan/Environmental Assessment (EA) through January 22, 2023. The comment period, which began November 14, was initially scheduled to end on December 23. The extension brings the total public comment period to 70 days.
Comment Period:
Closed Nov 14, 2022 - Jan 22, 2023
Topic Questions Instructions:
Please share your ideas. During this comment period, it is most helpful if you respond to as many of the following questions as you can.
Topic Questions:
1. Given the current water levels and future projections, what experiences in Lake Mead National Recreation Area are most important to you? What kind of experiences do you want future visitors to have when they come to the park?
2. Given your response to Question #1 regarding important experiences for you and future visitors, what barriers might get in the way of enjoying or visiting Lake Mead National Recreation Area? What barriers might prevent you from achieving your desired experiences?
3. Please provide input on the preliminary management concepts. What do you recommend the planning team consider, to address barriers and/or key issues, given the rapid decline in water levels?
4. What actions is the park currently taking to manage these issues that you'd like to see continue?
5. Other thoughts you'd like to share with the project team?

Document Content:

LAKE_SLWAP_Newsletter_2022_1122_508.pdf
(5.9 MB, PDF file)
Disclaimer:
Links within the above document(s) were valid as of the date published.
Note:
Some of the files may be in PDF format and can be viewed using the Adobe Acrobat Reader software. You may download a free copy of
Acrobat Reader
from Adobe Systems.