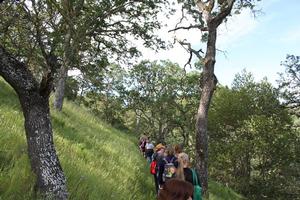 Mt Wanda Planning - Preliminary Concepts
The National Park Service (NPS) is beginning a comprehensive site management plan for the Mt. Wanda unit of John Muir National Historic Site. The plan for Mt. Wanda will identify new visitor opportunities and functions, balancing facility needs and resource management, while improving connectivity to other areas of the park and the broader community.
This newsletter describes initial ideas for the Mt. Wanda unit which are organized into three preliminary concepts. You are encouraged to share your thoughts about the concepts to help us focus the planning effort, and to offer new ideas or potential issues for the park to consider. Information obtained during this comment period will be used to refine the preliminary concepts, identify issues, and ensure that we have the information needed to move forward.
The comment period begins on April 21st and will extend through June 15, 2018.
Comment Period:
Closed 04/21/2018 - 06/15/2018
Topic Questions:
1. Of the various ideas for Mt. Wanda presented in the newsletter, which one(s) do you think would be most appropriate?
2. Are there other ideas that you think the NPS should consider in this process?
3. Are there any ideas presented in the preliminary concepts for which you have a specific concern that the National Park Service should be aware of?

Document Content:

JOMU_MtWanda_Newsletter1_for_reading_onscreen.pdf
(4.2 MB, PDF file)

JOMU_MtWanda_Newsletter1_printable.pdf
(4.2 MB, PDF file)
Disclaimer:
Links within the above document(s) were valid as of the date published.
Note:
Some of the files may be in PDF format and can be viewed using the Adobe Acrobat Reader software.
You may download a free copy of Acrobat Reader from Adobe Systems.