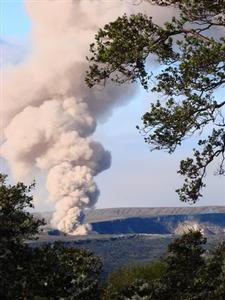 Newsletter for HAVO Air Tour Mgmt Plan April 2011
The purpose of this document is to present preliminary alternatives for the Hawai'i Volcanoes National Park ATMP EIS for public and stakeholder input. It is important to emphasize that final decisions have not been made on any of the alternatives and elements of the alternatives, and no detailed analysis of environmental impacts has been performed yet. After public and stakeholder input are received, the alternatives and elements of the alternatives may be refined, dismissed from further consideration, or new alternatives may be considered. Alternatives that are carried forward will be analyzed in the Draft EIS. As required by the Council on Environmental Quality (CEQ) regulations implementing the National Environmental Policy Act (NEPA), the Draft EIS will be made available for review and public comment.
Comment Period:
Closed Apr 1, 2011 - Jun 6, 2011
Topic Questions Instructions:
Comments that describe why something will or will not work, or provide new ideas or factual information to correct or adjust assumptions made, as opposed to just expressing like or dislike, are particularly helpful.
Topic Questions:
1. Please comment on any alternative and/or alternative element described in the April 2011 Newsletter.

Document Content:

Newsletter for HAVO Air Tour Mgmt Plan April 2011
(2.8 MB, PDF file)
Disclaimer:
Links within the above document(s) were valid as of the date published.
Note:
Some of the files may be in PDF format and can be viewed using the Adobe Acrobat Reader software. You may download a free copy of
Acrobat Reader
from Adobe Systems.