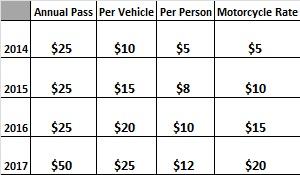 Proposed Entrance Fee Increase - Public Comment
Beginning in 2015, Haleakalā National Park may be changing their entrance fees to align with the new National Park Service rate schedule. Based on feedback received through public outreach, such as this survey, the park will develop a strategy that meets the needs and expectations of the community. Fees have not increased at Haleakalā since 2006, and there continues to be a growing need for funds to improve facilities, infrastructure and visitor services in the park. The new potential revenue from the fee increases would be used to provide enhanced visitor services including repair and maintenance of facilities, natural and cultural resource management, education and visitor programs. For more information, please review the park's press release regarding the possible entrance fee increase, as well as the chart on the park's proposed incremental fee schedule.
Comment Period:
Closed 10/14/2014 - 12/15/2014
Topic Questions Instructions:
Please review the press release from Haleakalā National Park regarding the proposed entrance fee increase, as well as the chart on the park's proposed incremental fee schedule, and submit your comments. You may also provide your comments on Visitor Comment Cards available at park visitor centers or at the public meetings on November 5 and 11, 2014 (described above). Written comments may be hand delivered to park visitor centers during open hours or mailed to: HALE Proposed Fee Increase c/o Superintendent, Haleakalā National Park, P.O. Box 369, Makawao, HI 96768. To be considered, comments must be received on or before the end of the public comment period on December 15, 2014. Comments will not be accepted by FAX, e-mail or in any manner other than the two methods previously specified. Bulk comments in any format (hard copy or electronic) submitted on behalf of others will not be accepted.
Before including a personal address, phone number, e­ mail address, or other personal identifying information in written comments, anyone providing written comment should be aware their entire comment -including their personal identifying information -may be made publicly available at any time. While anyone wishing to comment may ask the National Park Service in their comment to withhold their personal identifying information from public review, the National Park Service cannot guarantee it will be able to do so.









Topic Questions:
1. How do you feel about the possibility of Haleakalā National Park gradually increasing its entrance fees over the next 3 years in order to repair, maintain, and improve its facilities, infrastructure, natural and cultural resource management program, education programs and visitor programs/services?

Document Content:
No files have been uploaded for this document.