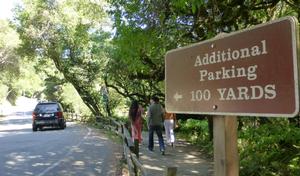 Sustainable Access Project - Draft Environmental Assessment
The National Park Service (NPS) is pleased to announce the availability of the Sustainable Access Project Draft Environmental Assessment. This document evaluates alternatives for improving visitor access and arrival facilities at Muir Woods National Monument, improving visitor experience and safety, and enhancing preservation of natural and cultural resources. The Draft Environmental Assessment was prepared in accordance with the National Environmental Policy Act (NEPA), the National Historic Preservation Act, and in compliance with all applicable laws, regulations, and policies.
The National Park Service invites your review and comment on the document. All comments on the Draft Environmental Assessment will be reviewed and considered. Substantive comments will be identified and responded to in a Comment Analysis Report. A substantive comment is a comment that raises, debates, or questions a point of fact or policy discussed in the Draft Environmental Assessment. Comments in favor of or against the proposed action or alternatives or comments that only agree or disagree with NPS policy are not considered substantive. Although all comments will be read and considered in shaping the Final Environmental Assessment, only those determined to be substantive will be explicitly addressed by the NPS response.
The public comment period for the Draft Environmental Assessment will end on December 5th, 2016. Please see the main project page for additional information about the project. Written comments may also be mailed to: Superintendent, Golden Gate National Recreation Area, Building 201, Fort Mason, San Francisco, CA 94123-0022. Mailed comments must be postmarked by December 5th, 2016, to ensure that your comment will be considered.
Comment Period:
Closed Nov 4, 2016 - Dec 5, 2016

Document Content:

MUWO_SAP_Draft_EA_508PEPC.pdf
(4.4 MB, PDF file)
Disclaimer:
Links within the above document(s) were valid as of the date published.
Note:
Some of the files may be in PDF format and can be viewed using the Adobe Acrobat Reader software. You may download a free copy of
Acrobat Reader
from Adobe Systems.