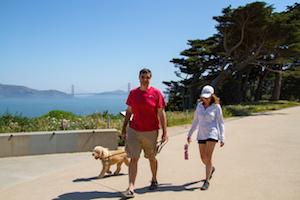 Draft Dog Management Plan / Environmental Impact Statement
The Draft Dog Management Plan/Environmental Impact Statement (Draft Plan/EIS) was open for public review and comment from January 14 to May 30, 2011; approximately 5,000 comments were received. In August, 2011, a public comment analysis will be posted on this web site and on the GGNRA web site.
The next step of the planning process is the review, analysis and incorporation of public comment. GGNRA will publish a newsletter in late Fall, 2011, that will describe any major changes to the alternatives as a result of public comment. The newsletter will also describe the following step in this process, the 2012 Notice of Proposed Rulemaking for dog management, which provides a second opportunity for public comment on the proposed dog management plan for GGNRA.
Although the comment period on the Draft Plan/DEIS has closed, the document is still available below, broken out into sections to make finding information, and downloading, easier. All the sections are in a searchable PDF format.
Comment Period:
Closed Jan 14, 2011 - May 30, 2011

Document Content: