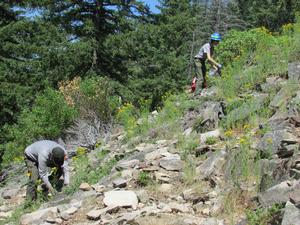 Invasive Vegetation Management Plan
Park Staff have completed drafting the Invasive Vegetation Management Plan Environmental Assessment (EA) and released the document for public review. This plan will guide management of invasive vegetation at Crater Lake National Park (CRLA) for the next 15 - 20 years. The plan's proposed action represents the best approach to managing invasive vegetation in a proactive and effective manner that upholds both the protection of employee and visitor safety and the protection of natural and cultural resources. The proposed action would utilize an adaptive management framework to evaluate the most effective and appropriate control methods for each invasive plant species and utilize approved treatment methods while retaining emphasis on prevention, early detection and rapid response, control, effectiveness monitoring, outreach/education, and collaboration.
The National Park Service is seeking your public input on the actions proposed in the Vegetation Management Plan Environmental Assessment. Comments about any aspect of the EA can be submitted during the 30-day public review period, from April 3 until May 3, 2017.
Comment Period:
Closed 04/03/2017 - 05/03/2017

Document Content:

CRLA_IVMP_EA_MARCH_2017.pdf
(8.5 MB, PDF file)

SHPO Response Letter Case Nbr SHPO Case No._ 17-0587.pdf
(29.6 KB, PDF file)
Disclaimer:
Links within the above document(s) were valid as of the date published.
Note:
Some of the files may be in PDF format and can be viewed using the Adobe Acrobat Reader software.
You may download a free copy of Acrobat Reader from Adobe Systems.