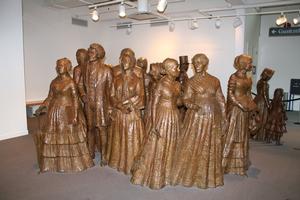 Women's Rights NHP Draft Foundation Document
In August 2012, NPS planners conducted a workshop involving park staff and key park stakeholders to begin the process of preparing a Foundation Document for the park and consider the park's role relative to the Votes for Women History Trail. A draft report has been prepared and is being made available to workshop participants for their review and comment.
Comments on the draft report may be entered on this website by clicking on the Comment on Document link. You may also submit written comments electronically via e-mail to ellen_carlson@nps.gov or by regular mail to the following address:
Ellen Carlson
National Park Service
15 State Street
Boston, MA 02109.
Your feedback is important to us and we look forward to hearing your thoughts and your suggestions on this draft report.
Comment Period:
Closed 03/20/2013 - 04/19/2013

Document Content:

Women's Rights DRAFT Foundation Document
(535.0 KB, PDF file)
Disclaimer:
Links within the above document(s) were valid as of the date published.
Note:
Some of the files may be in PDF format and can be viewed using the Adobe Acrobat Reader software. You may download a free copy of
Acrobat Reader
from Adobe Systems.