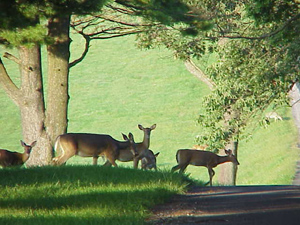 Draft White-tailed Deer Management Plan/Environmental Impact Statement
Valley Forge National Historical Park is pleased to announce release of the Draft White-tailed Deer Management Plan/Environmental Impact Statement for public review. It describes the purpose and need for the plan, plan objectives, and four proposed deer management alternatives. All alternatives (including the no-action alternative) include response to chronic wasting disease (CWD). Response to CWD was developed cooperatively with the Pennsylvania Game Commission, and a full CWD Response Plan is provided as an appendix. The NPS Preferred and Environmentally Preferred alternatives are identified. The potential human and environmental impacts of the alternatives also are assessed.
The participation of the community has been an important part of developing this plan. We now request your thoughtful evaluation and comment on the proposed alternatives. The 60-day public comment period for review of the Draft White-tailed Deer Management Plan/EIS is open from December 19, 2008 to February 17, 2009. Two public meetings will be held to discuss and solicit input on the draft plan. Please join us on January 14, 2009 from 6:00pm to 9:00pm at the Tredyffrin Township Building OR January 15, 2009 from 1:00pm to 4:00pm at the Valley Forge NHP Education Center.
Interested parties may obtain an electronic version of the draft plan and/or submit electronic comments through the Planning, Environment and Public Comment website at
http://parkplanning.nps.gov
. The plan also is available for public review at the park Welcome Center, the Chester County Public Library, Montgomery County-Norristown Public Library, Phoenixville Public Library, Tredyffrin Township Public Library, and Lower Providence Community Library. A hard copy (limited availability) or CD may be obtained from: Superintendent, Valley Forge NHP, 1400 North Outer Line Drive, King of Prussia, Pennsylvania 19406. Written comments also may be submitted to that address.
Comment Period:
Closed 12/19/2008 - 02/17/2009

Document Content: