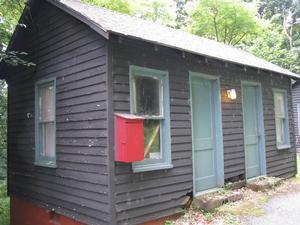 Agreement to Photograph and Document the Buildings Before Removal
The National Park Service (NPS) is seeking public input on the draft Memorandum of Agreement (MOA) concerning the proposed removal of five buildings in the Big Meadows Area known as the Big Meadows Cottages or Maids Cabins. These cottages are contributing structures in the Skyland Drive National Historic Landmark District (NHL) (entered in the National Register of Historic Places on September 19, 1997, amended October 6, 2008).
In consultation with the Virginia Department of Historic Resources State Historic Preservation Office (SHPO), the park and the SHPO have jointly determined that the removal of the cottages will have an adverse effect on the Skyline Drive NHL. As required under Section 106 of the National Historic Preservation Act of 1966 (NHPA) the park and the SHPO have developed a draft MOA to mitigate the adverse effect to the NHL. The draft MOA describes measures to be taken by the park to document the cottages prior to removal and protect any unknown archaeological resources during the removal process.
Comment Period:
Closed 06/05/2017 - 07/05/2017

Document Content: