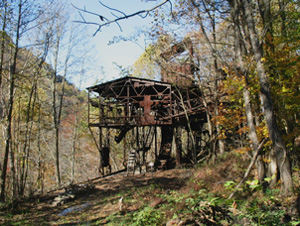 Nuttallburg Visitor Use Area Implementation Plan - Scoping
The National Park Service will prepare an Implementation Plan for the nationally significant historic resources at Nuttallburg. The Nuttallburg Mining Complex and town site is the most intact example of an early 20th century coal mining complex in the New River Gorge and West Virginia, and one of the most complete coal related industrial sites in the United States. The National Park Service (NPS) proposes to develop a new visitor use area that will encompass land within and adjoining the Nuttallburg Mining Complex and Town Historic District. The Historic District is listed on the National Register of Historic Places and is nationally significant for its association with Henry Ford's revolutionary experiment from 1920 to 1928 to vertically integrate automobile production at his Rouge River Plant in Dearborn, Michigan, by controlling the supply and flow of raw materials needed for automobile manufacturing. It is also nationally significant for Henry Ford's use of engineering innovation at the site.
Comment Period:
Closed 01/24/2006 - 11/24/2008
Topic Questions Instructions:
Please mail responses to the postal address below or comment through this website.
Topic Questions:
1. What are the issues that should be considered in the Implementation Plan?What are the public's ideas for the future of Nuttallburg?

Document Content:

Comments Received from Public Meetings
(34.0 KB, .doc file)

Power Point Presentation on Nuttallburg with Possible Alternatives
(4.4 MB, PDF file)
Disclaimer:
Links within the above document(s) were valid as of the date published.
Note:
Some of the files may be in PDF format and can be viewed using the Adobe Acrobat Reader software.
You may download a free copy of Acrobat Reader from Adobe Systems.