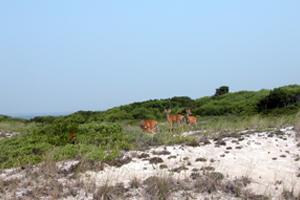 Fire Island Deer and Vegetation Plan Public Scoping Newsletter
This scoping newsletter has been created to provide a brief summary of the background information that our NPS planning team has compiled in advance of the preparation of a White-tailed Deer and Vegetation Management Plan for Fire Island National Seashore. The newsletter introduces some background information and the purpose and need for such a plan, and explains the process that the NPS follows to develop such a plan and its associated Environmental Impact Statement. The newsletter also serves as an invitation to the public for the submission of additional information, comments or opinions that will be useful in the preparation of this plan. No public meetings have been planned for the public scoping portion of this process. Comments may be submitted electronically at this site, (through the specified closing date) or by mail to the address below.
Your feedback is valuable. Thank you for your participation!
Comment Period:
Closed 06/17/2011 - 07/31/2011
Topic Questions:
1. What issues or concerns do you have about white-tailed deer or deer management at Fire Island National Seashore that the NPS needs to consider in preparing this plan?
2. Do the purpose, need, and objectives reflect what you think needs to be accomplished through this plan?
3. If not, what else do you think needs to be accomplished?
4. Are there strategies for deer and vegetation management, other than those presented, that you think should be considered?

Document Content:

Fire Island Deer-Veg Management Plan Newsletter-1_PublicScoping_Summer-2011_4-page-web
(375.6 KB, PDF file)
Disclaimer:
Links within the above document(s) were valid as of the date published.
Note:
Some of the files may be in PDF format and can be viewed using the Adobe Acrobat Reader software. You may download a free copy of
Acrobat Reader
from Adobe Systems.