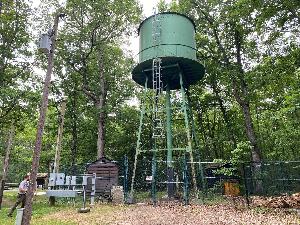 Demolish Water Towers & Excess Pump Houses and Abandon Obsolete Water Supply Wells
Prince William Forest Park is proposing to demolish and remove eight (8) excess pump house structures, abandoning five (5) associated drilled/bored drinking water wells, removing one (1) above-ground metal water tank, and dismantling and removing four (4) steel truss above-ground water tower structures. This project also includes the dismantling and removal of the well casement plumbing, water supply plumbing, electrical systems, any fencing or concrete footers, and the complete backfilling of the obsolete drinking water well structures. The footprint from the structures and associated features will be restored with native vegetation.
These water system components were replaced in 2005 when a modern water system was installed to a municipal drinking water provider, and so the pre-2005 systems are now obsolete and unnecessary. The physical structures pose a potential safety issue to employees and the public as a result of their obsolescence and deteriorating condition. The wells need to be properly abandoned to ensure protection of aquifer and ground water sources.
These water towers were built during the Mission 66 era (roughly 1945-1973). Mission 66 was a National Park Service initiative to provide updated visitor services in national parks across the country in time for the 50th anniversary in 1966. For more information about Mission 66, see
https://mylearning.nps.gov/library-resources/national-park-service-mission-66-era-resources/
All of these structures were evaluated as part of the 2011 Prince William Forest Park National Register nomination and determined to be non-contributing to the parkwide historic district. However, the towers were not yet fifty years old at that time and were not evaluated for eligibility for Mission 66. The draft Mission 66 Multiple Property Documentation Form for the NPS National Capital Area does call out the Oak Ridge water tower as part of the Mission 66 initiative at PRWI, but does not go further in commenting on its potential significance (Robinson et al. 2021, 35).
Unfortunately, the park does not have the funding at this time to conduct an evaluation of these structures as part of a broader Mission 66 landscape. To this end, PRWI will treat these structures as eligible, and consider their demolition an adverse effect. The Virginia Department of Historic Resources has concurred that these demolitions are an adverse impact to structures that are potentially eligible for the National Register of Historic Places.
Water towers to be removed and dates of construction:
Pine Grove Picnic Area, 1963
Telegraph Road Picnic Area, 1963
Turkey Run, 1963
Oak Ridge, 1963
Water tank to be removed and dates of construction:
Mawavi Road, 1985ca
Pump houses to be removed:
Telegraph Road Picnic Area, 1975
Lower Maintenance #334, 1975
Williams (Pine Grove Picnic Area), 1975
Pine Grove Picnic Area, 1960
Turkey Run, 1965
Camp 5 pump house on Mawavi Rd, 1960ca
Camp 3 pump house, 1959
Oak Ridge pump house, 1989
Wells to be abandoned:
Pine Grove Picnic Area (in pump house)
Oak Ridge Campground (in pump house)
Turkey Run (in pump house)
Behind Quarters 6
Mawavi Rd
Contact Information
George Liffert
Superintendent
Prince William Forest Park
Comment Period:
Closed 12/10/2021 - 02/28/2022

Document Content: